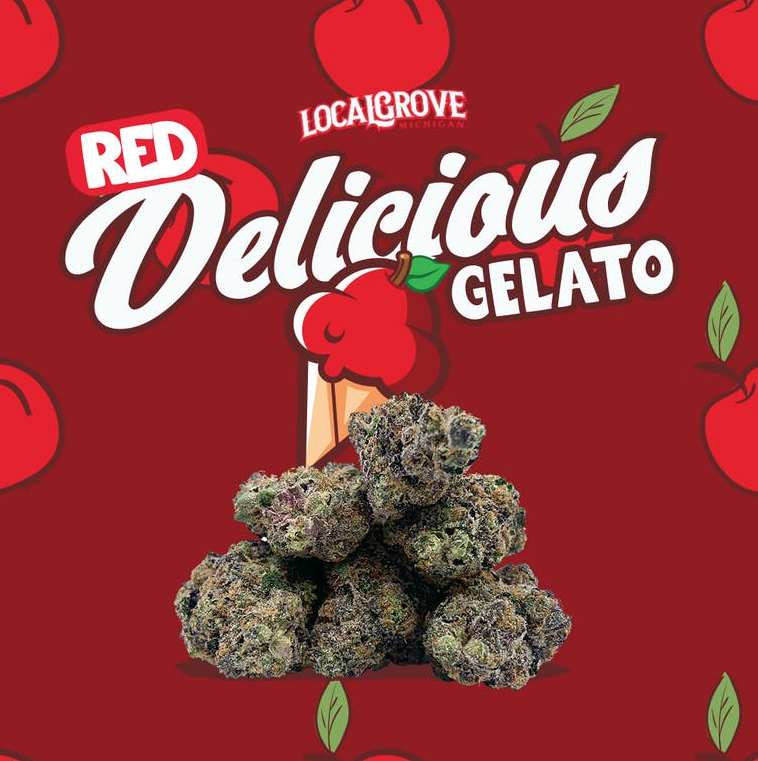 Red Delicious Gelato
Red Delicious Gelato slightly indica dominant hybrid (55% indica/45% sativa) this strain is a Gelato 41 x Apple Fritter cross. Novice consumers may want to approach this with caution, but those armed with a high THC tolerance will delight in the heavy-handed effects of this strain. The aroma is very similar, with an herbal effect to it, too. The high starts almost as soon as you experience your first exhale, filling your mind with a rushing lift that pushes out any negative or racing thoughts almost immediately. As this head high blissfully builds, a creeping body buzz will slowly wash over you, leaving you completely relaxed and calm with a sense of peace and well being. These powerful and surprisingly well balanced effects make Gelato the perfect choice for patients suffering from muscle spasms, chronic pain, inflammation, chronic fatigue, and headaches or migraines.
-Terpenes: herbs, coffee, and wood
-Pedigree:  Red Delicious Gelato (Bacio Gelato x Apple Fritter) Bred by Clearwater
Gelato is a cross between Sunset Sherbet and Thin Mint Girl Scout Cookies, named in homage to its sweet aroma. Also known as Larry Bird, Gelato (#33) was first cultivated in Northern California's Bay Area and is derived from a deep bank of genetics created by the Cookie Family, the Sherbinskis family, and cultivator Mario Guzman.
Happy, Relaxed, Uplifted

muscle spasms, chronic pain, inflammation, chronic fatigue, and headaches or migraines.

Earthy, Berry, Diesel
Local Retailers
*Visit our retail partners